Out now – The new single Fly At Night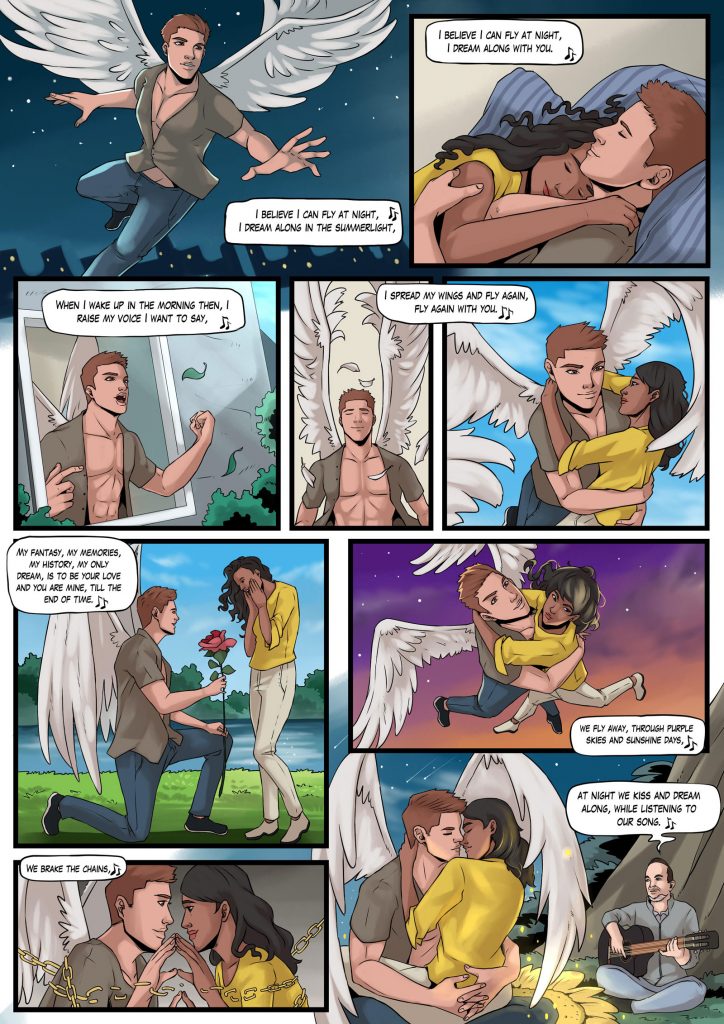 Hi guys, here is a preview of my upcoming graphic novel to the song. I will post pages over the summer. Check back frequently 🙂

Here is a brief intro to the story:


Danijel is an angel. He was sent to earth and is now earthbound. He lives on earth for quite a while now. He is able to hide his wings, and always kept his angel being a secret. He tried to stay out of any trouble, keeps contact to other people to a minimum. He has a job in an office, but even there he is pretty much on his own. Why he was sent to earth and what his mission is, he does not know.

One day he runs into Susan, literally. Or more precisely, she runs into him. She ran out a flower shop around the corner where Danijel lives, and she bumps into him.
More to come …
I was born and raised in Austria. I love music since I can remember. In my childhood I did sing at school-events, mainly in choirs. I was always impressed by the music of Elvis Presley. He is still one of my favorite singers of all-times. When I was a kid I tried to sing in a tone like he did, but of course, it was out of reach for me. However, his music definitely inspired and accompanied me further.
My favorite genre is pretty much rock, but recently country got on my plate. It just happened 😉 I prefer ballades and songs everyone can sing along. However, sometimes you can find me on some platforms doing sidesteps to all kinds of other genres.

In this Interview on Original Rock Net you can get to know me a bit more 🙂


Music is an opportunity to tell stories. Every song I write is part of my life and supposed to transport emotions.

Follow me on social media
These are my favorite platforms, take a look at my profiles.